Hardware¶
w-iLab.1 Hardware¶
This testbed is currently under development, so check back here regularly for updates.
The w-iLab.1 testbed is split into two entities:
44 testbed nodes are mounted to the ceiling of the datacenter of the iGent building (in Ghent): a 30m by 10m room in a grid configuration with dx = 2.5 meter and dy = 2 meter. The 44 installed nodes can be seen on the inventory.
IoT Officelab : 110 testbed nodes installed on three floors in the iGent building.
Inventory¶
The inventory is located at http://boss.wilab1.ilabt.iminds.be/inventory . This tool can help you find out the exact location of the nodes and their configuration.
You can use the filter function to look for nodes with specific extensions (e.g. with webcams, with WiSpy, with a certain WiFi mac address).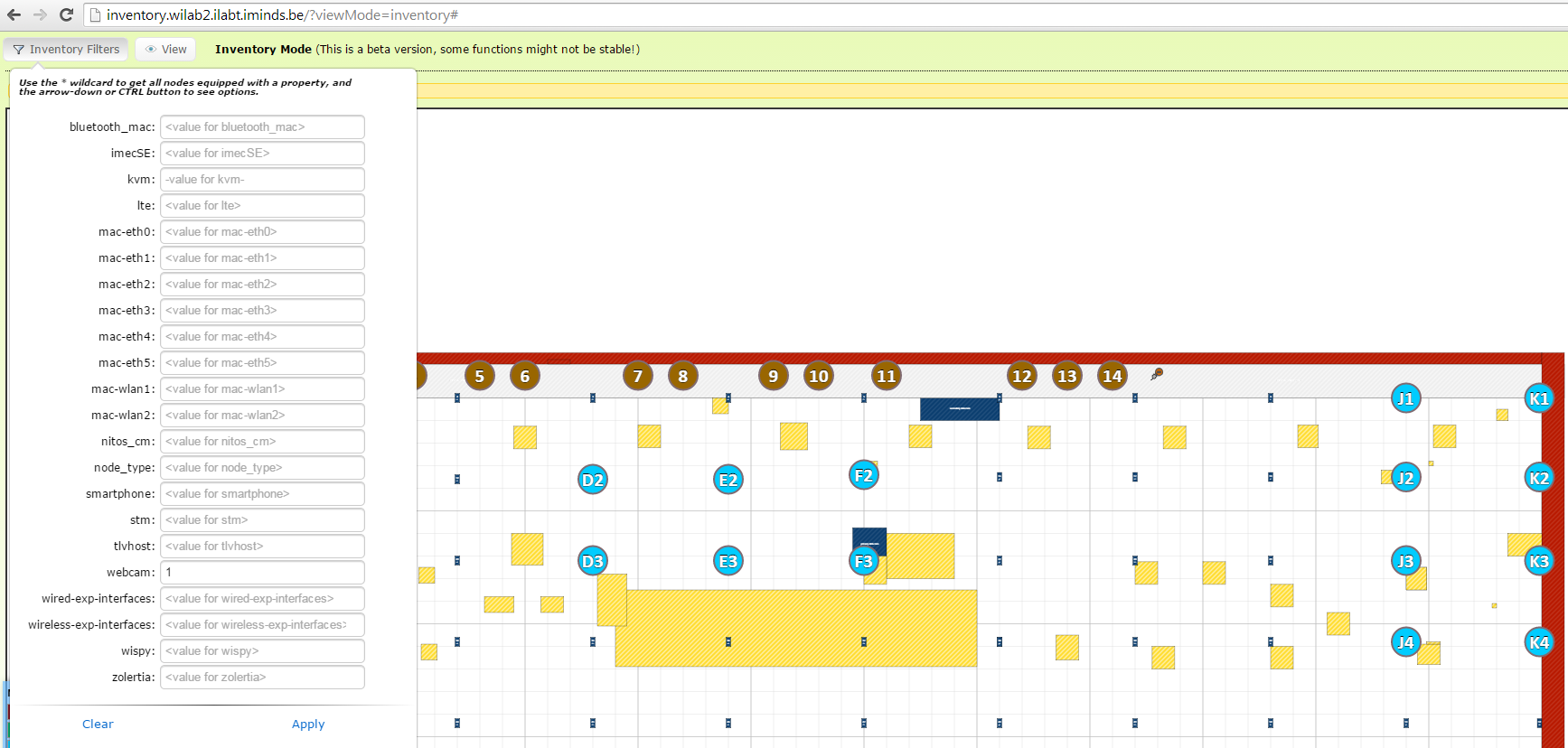 Node configuration¶
The w-iLab.1 testbed consists mainly of Intel NUC devices with the following specs:
| Feature | NUC D54250WYKH |
| --- | --- |
| CPU type | Intel Core i5-4250U Processor (3M Cache, up to 2.60 GHz) |
| RAM (GB) | 8GB DDR3 1600MHz |
| Hard disk | 320GB (2.5", SATA 6Gb/s, 7200RPM, 16MB) |
| WiFi | 1x802.11abgn+BT, 1x802.11ac |
| Sensor node | Yepkit USB hub + Zolertia Re-Mote |
| Bluetooth | Bluetooth 4.0 LE/3.0 HS/2.1 EDR (on 802.11n WiFi card) |
Naming convention:

nucX-Y
X = floor of iGent building, Y = NUC numbering per floor

Details on the 802.11abgn+BT interfaces:

Sparklan WPEA-251N(BT) mini PCIe 2T2R chipset: AR9462 , AR5B22
To each Wi-Fi card, two antennas are connected (2x2 MIMO is supported).
Supports also Bluetooth 4.0 LE/ 3.0 HS/ 2.1 EDR standard
Recommended driver: ath9k

Details on the 802.11ac Wifi interfaces (second WiFi card):

Compex WLE900VX / 802.11ac/n/b/g 3x3 MIMO / PCI-Express Full-Size MiniCard: Qualcomm Atheros QCA9880
To each Wi-Fi card, three antennas are connected (3x3 MIMO is supported).
Recommended driver: ath10k

Power control of the NUC nodes is done using Power-Over-Ethernet.
Some nodes have extra USB extensions, like sensor nodes. Use the inventory to look for specific devices.
Yepkit USB Switchable hub¶
The extra USB extensions can be switched on and off with the Yepkit USB Swichable hub through which they are connected to the NUC. This is useful to powercycle or enable/disable sensors.
To control the Yepkit USB ports:
# change to shared directory where ykushcmd is present (git at: https://github.com/Yepkit/ykush/tree/master/ykushcmd)
# check if a USB Hub is present
ykushcmd ykush3 -l
# bring up port 1
ykushcmd ykush3 -u 1
# bring down port 1
ykushcmd ykush3 -d 1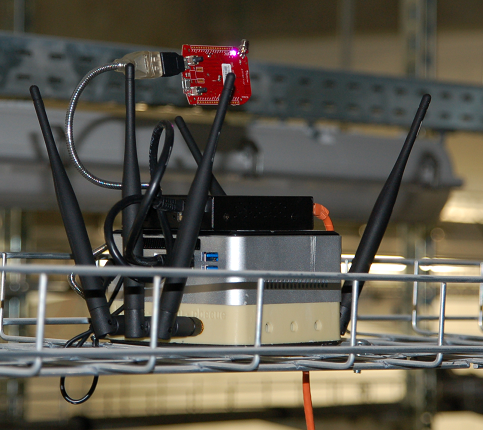 Zolertia Re-Mote Sensor¶
Some nodes are equipped with one or more Zolertia Re-Mote sensor nodes. The RE-Mote is based on the CC2538 ARM Cortex-M3 with a robust 2.4Ghz IEEE 802.15.4 radio, running up to 32MHz with 512KB of programable flash and 32KB of RAM, bundled with a CC1200 868/915Mhz RF transceiver. The RE-mote features a built-in TMP102 temperature sensor, microSD over SPI, battery charger and management (BQ24075) with an input range of 2 to 26VDC.
More info can be found here: http://zolertia.io/product/hardware/re-mote

Officelab¶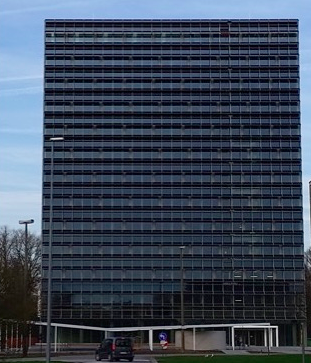 In the iGent building, three floors of the building are transformed into a real-life office lab environment (floor 9-10-11). Wireless and wired sensor technology will be deployed to demonstrate tomorrow's smart office applications optimizing work spaces, visitor's experiences, workers' comfort, etc. In total, 120 nodes will be deployed.
Example floor plan for floor 10. Red dots represent node locations.