Make a reservation (users of OLD emulab interface)¶

Once you are succesfully logged in, click on New reservation on the top right of the Reservations tab.
Fill in the time slot details and click Update free nodes to see which nodes are still available during the given time slot.
Choose the project for which you want to insert a reservation. Since nodes are reserved on a project basis, this implies that all members of that project will be able to use the nodes. During a reserved time slot, you can swap in & out as many experiments as you want.
Click the green bar for the desired node type and select some of the nodes. If no green bar is shown for a given type, this means that no nodes are available during that time slot.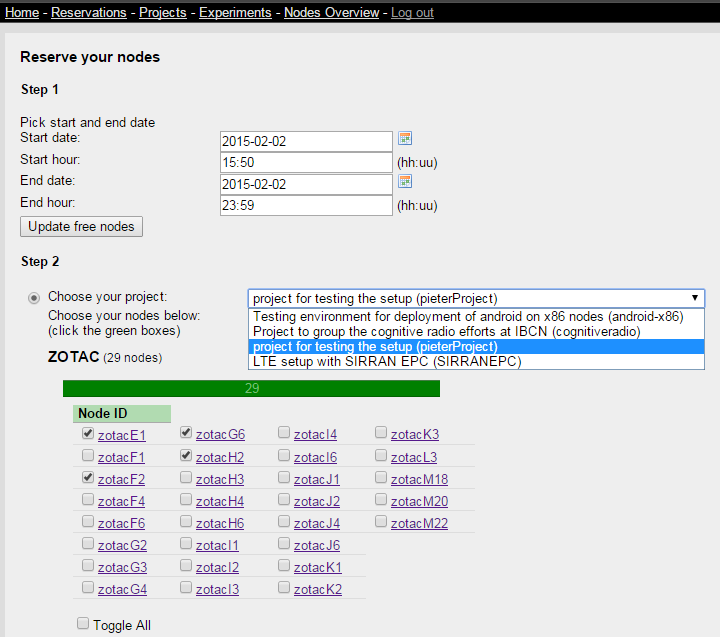 If you have extra requirements (e.g. if you want a clean 2.4 or 5GHz spectrum during your experiment), just mention them in the Comments field.

Browse to the Reservations tab to see your reservations. Note that on the top right of that page, you can chose to see only Your reservations or All reservations.
There is also a more user friendly view of the calendar available here: w-iLab.2 Reservation calendar.

If you want to edit (change time slot, nodes, project) your reservation, click on Details first.
Next, click on Edit , make your modifications and click change when you are done.
If you want to delete your reservation, go to the reservation details first, and then click Delete.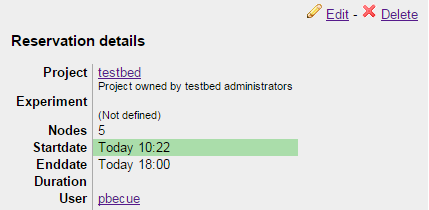 To get an overview of all reserved nodes, click on the Nodes Overview tab.
On the right, you can select both the Current State Overview and the Reserved Nodes Overview. Fill in a time and date on the Reserved Nodes Overview page to see which nodes are reserved by whom.